Schlup & Co., Rado, Exacto - alte Werbung/Historic Ads:
>Klicke auf ein Bild, um es in einem neuen Fenster zu vergrößern! Bei Pinterest findest Du diese und auch weitere interessante Bilder wie Werbeanzeigen, Kataloge, Broschüren und Booklets bei vintage RADO.
vintage RADO at

>Click on a picture to enlarge it in a new window! At Pinterest you can find these and also further interesting pictures like ads, catalogues, brochures, booklets at vintage RADO.
1920er/1920s: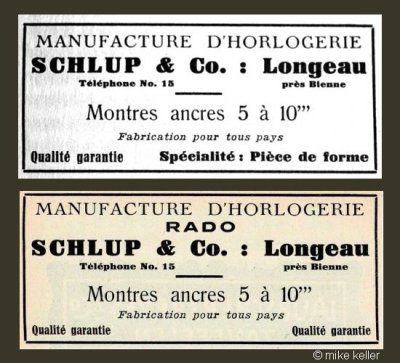 Vor/Pre 1929 + 1929 mit der ersten Erwähnung der Marke RADO/with the first mention of the RADO brand
1940er/1940s:

>1950: Alte Logoschrift/Old Logo-Typing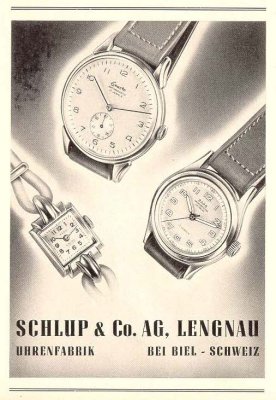 1949/50 aus "Fachkunde für Uhrmacher", einem Buch für Uhrmacher/from a book for watchmakers, D
1950er/1950s:

1951 -1957: "R-Linien"-Logoschrift/"R-Line" Logo-Typing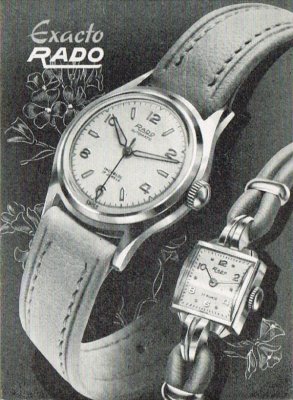 1951, D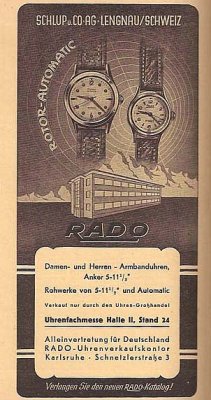 1951 Annonce aus dem Programm der Uhrenmesse in Frankfurt/M, D/Ad in the program of the watch fair in Frankfurt/M, Germany, D
1952 Vor- und Rückseite eines Werbeblatts zur Schweizer Industriemesse in Basel/Front- and backside of a flyer for the Swiss Industries Fair in Basel, CH
1956, Argentinisches Uhrenmagazin/Argentinian watch magazine, AR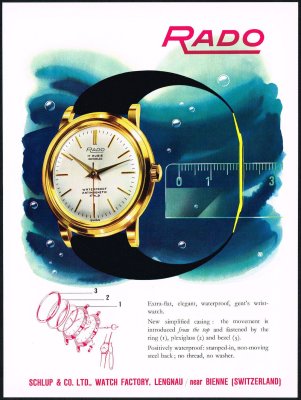 1956, USA
1956, J, 1957, CH

1958 - heute/Today: Neue Logoschrift, Anker- und Seepferdchen-Logos/New Logotyping, Anchor- And Seahorses-Logo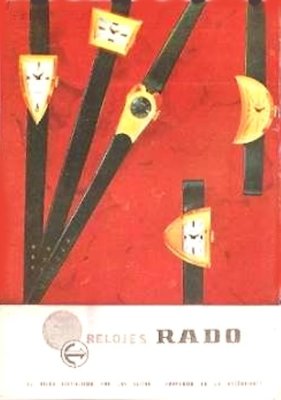 1959/60 Außergewöhnliche Damenuhren/Extraordinary ladies´ models, RA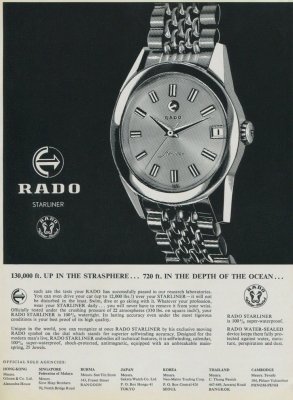 1959/60. Starliner, USA
1960er/1960s: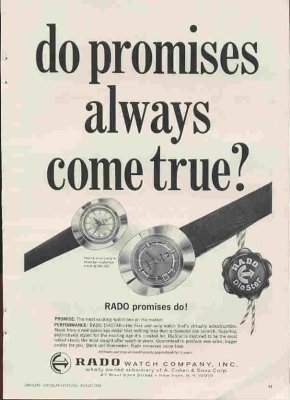 1962, DiaStar, USA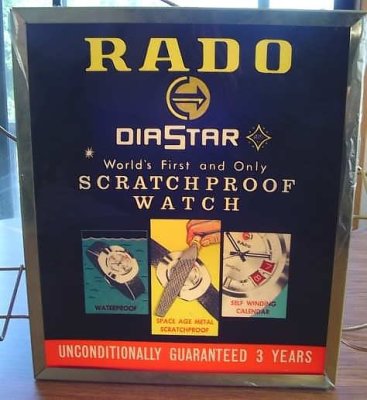 ca. 1962 - 1965, DiaStar Werbedisplay/Ad-Display, USA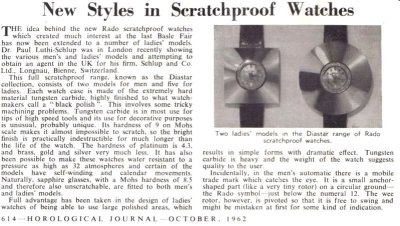 1962 DiaStar Artikel/Article, GB(Horological Journal)
1965 DiaStar, Captain Cook MkI, Rado Ticin, I/1966 Captain Cook Mk I, Rado Ticin, I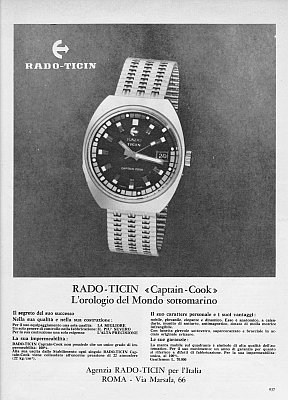 1966 Captain Cook Mk II, Rado Ticin, I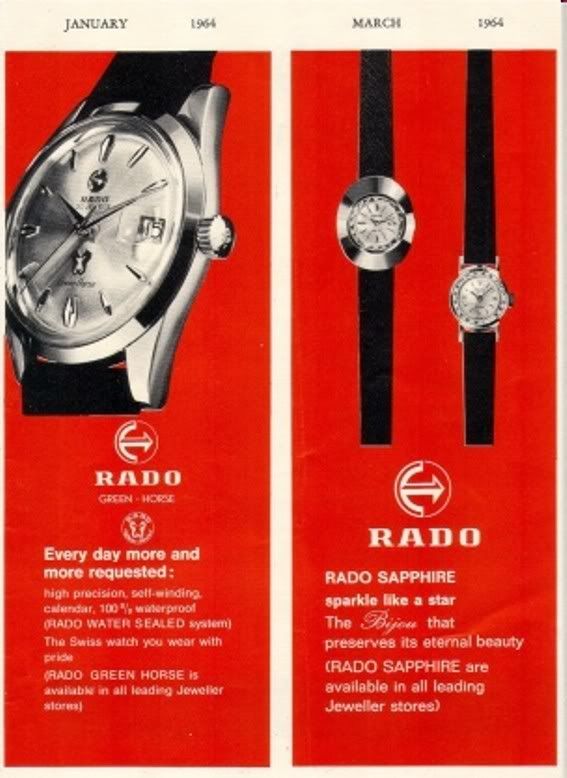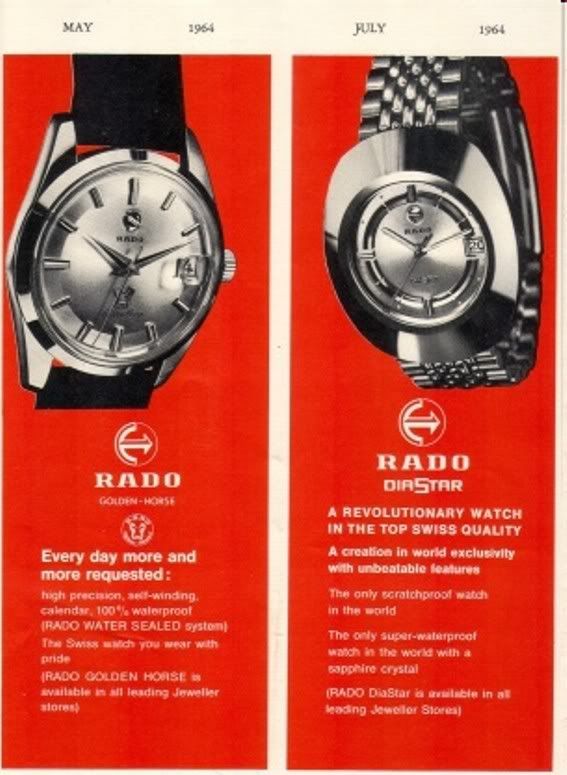 1964, Werbekalender/Ad calendar, GB
1964, Green Horse, Südamerika/South America
1964, Starliner 999, Südamerika/South America

ca. 1964, DiaStar, USA 1964 DiaStar, USA(Life Magazine 4. Dez. 1964)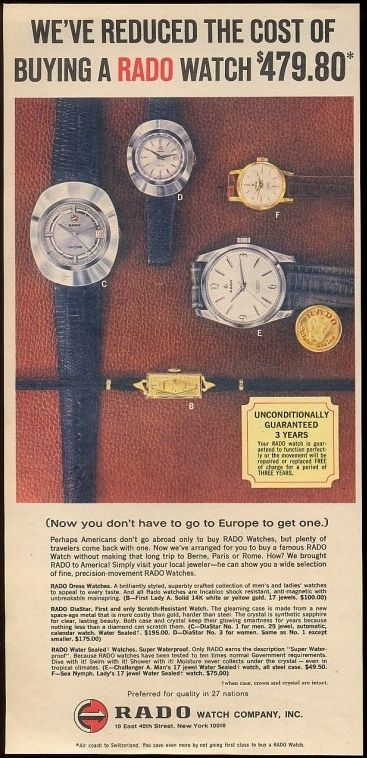 1964 DiaStar, Challenger, Sea Nymph, First Lady, USA
ca. 1965, DiaStar, INT

ca. 1965, "waterproof", USA
1967, DiaStar, USA(Life Magazine)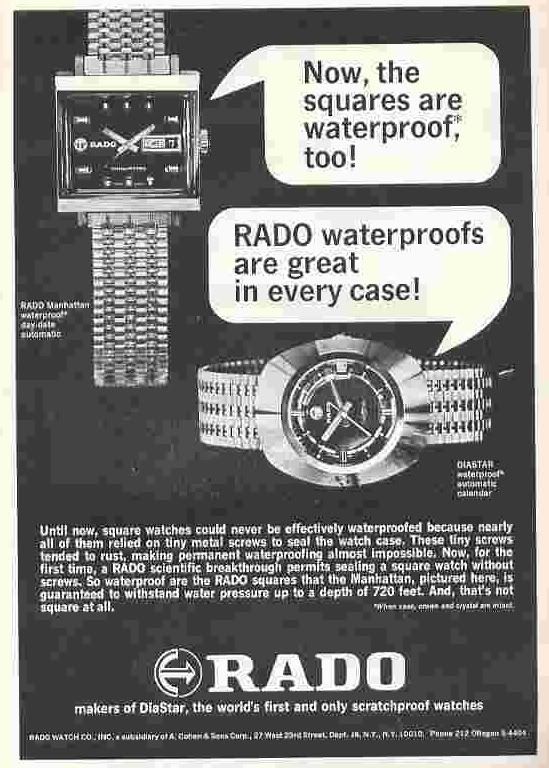 ca.1967, Manhattan, DiaStar, USA
1967 DiaStar, Manhattan, Voyager, Maro Polo, Ponce De Leon, Cortez, USA
1967 Manhattan, Captain Cook, USA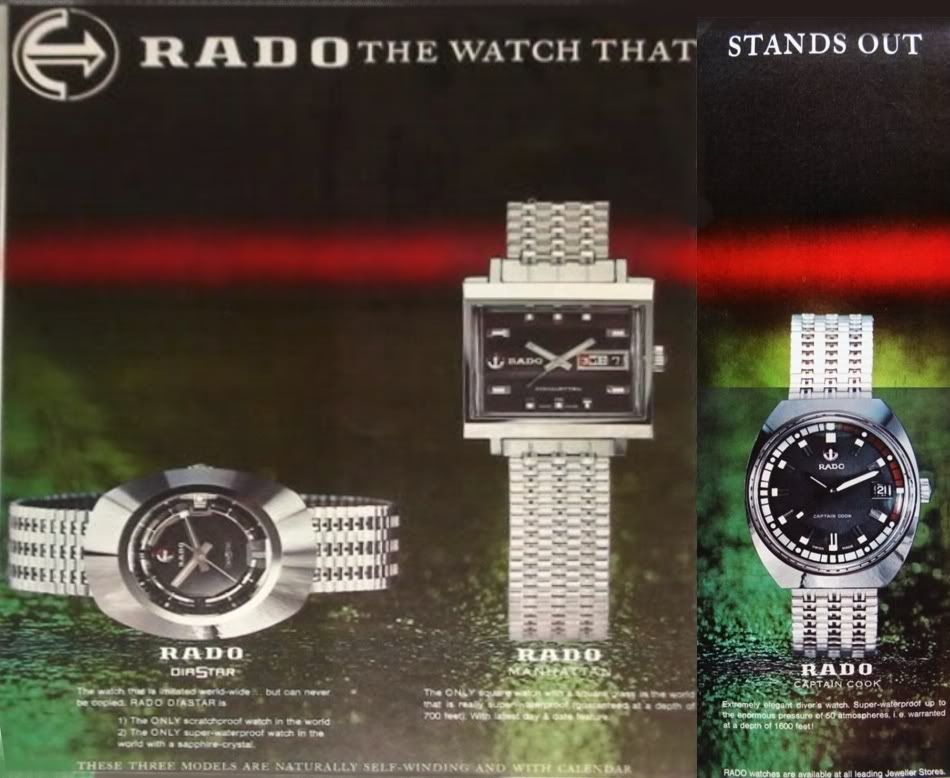 ca. 1967, DiaStar, Manhattan, Captain Cook, USA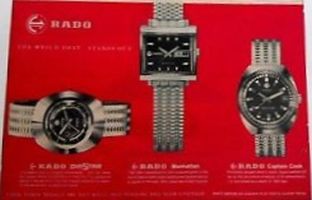 1968 DiaStar, Manhattan, Captain Cook MkII, USA
1960er/1960s Marstron Broschüre/brochure, J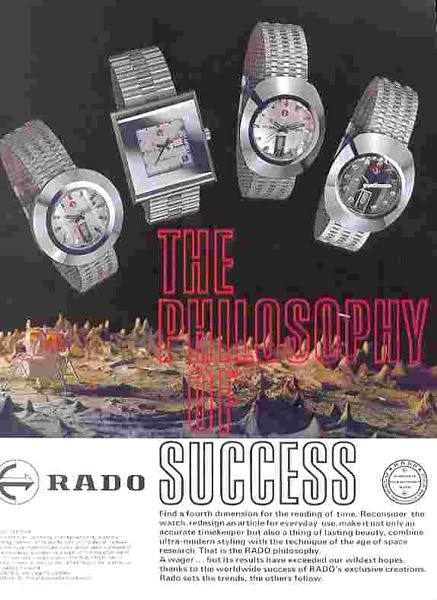 1969, DiaStar, DiaMaster/DiaStar 10, USA
1969, Voyager, Green Horse, DiaStar, DayNight, USA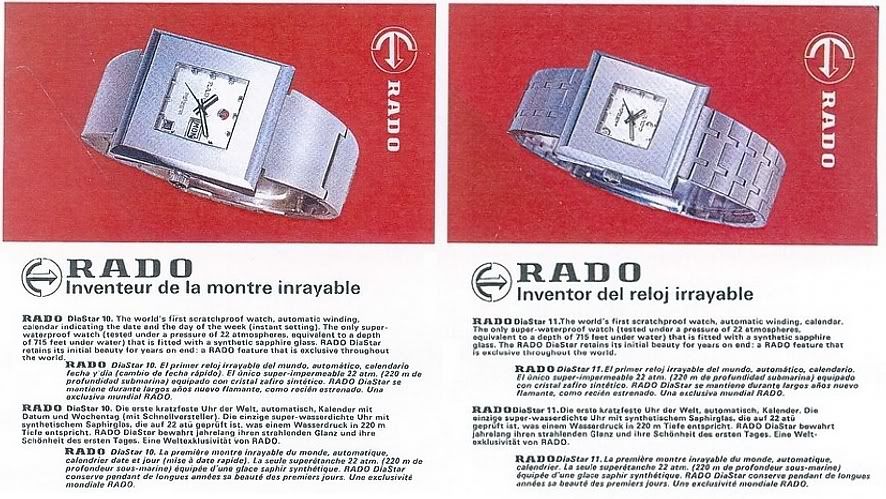 ca. 1969, DiaMaster = DiaStar 10(l Herren/Gentlemen) und 11(r, Damen/Ladies), Beschreibung in engl./span./deutsch/franz./description in
Engl./Span./German/French
ca. 1969, DiaMaster/DiaStar 10, J 1969, DiaStar, DiaMaster/DiaStar 10, J
1969, Golden Horse, USA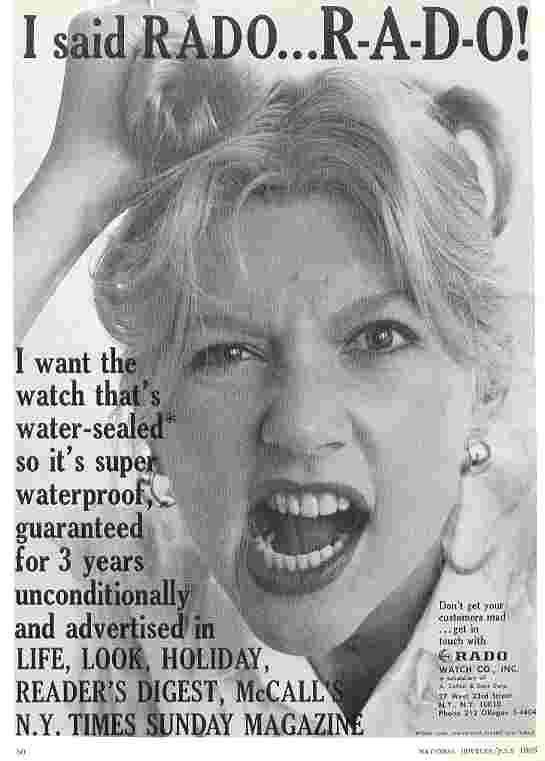 1960s, Werbung für Wiederverkäufer/Ad for resellers, USA
1970er/1970´s: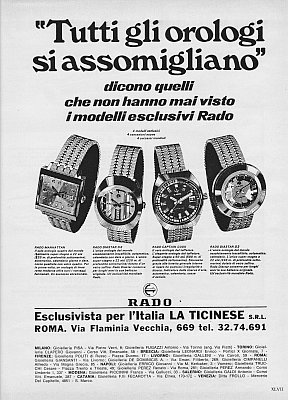 1970 Manhattan, DiaStar 8, Captain Cook MkII, DiaStar 2, I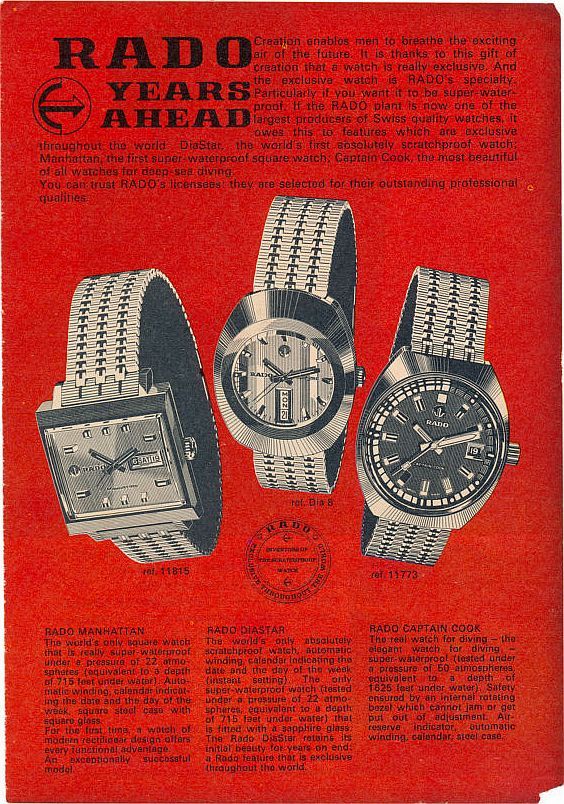 ca. 1970, Manhattan, DiaStar, Captain Cook MkII, Hongkong

1970s. DiaStar. Aufkleber/sticker, CH
ca. 1971, DiaMaster/DiaStar 10, Hongkong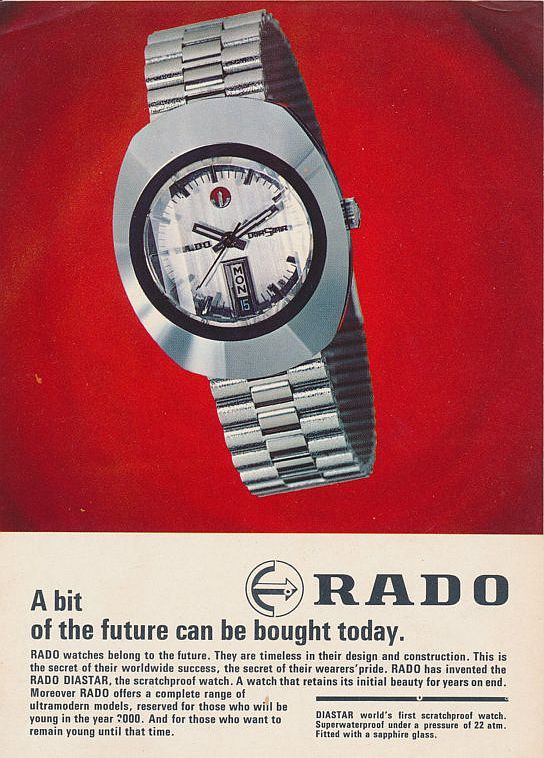 ca. 1971, DiaStar, Hongkong
ca. 1972, Manhattan, Captain Cook MkII, USA
ca. 1972, NCC 101, J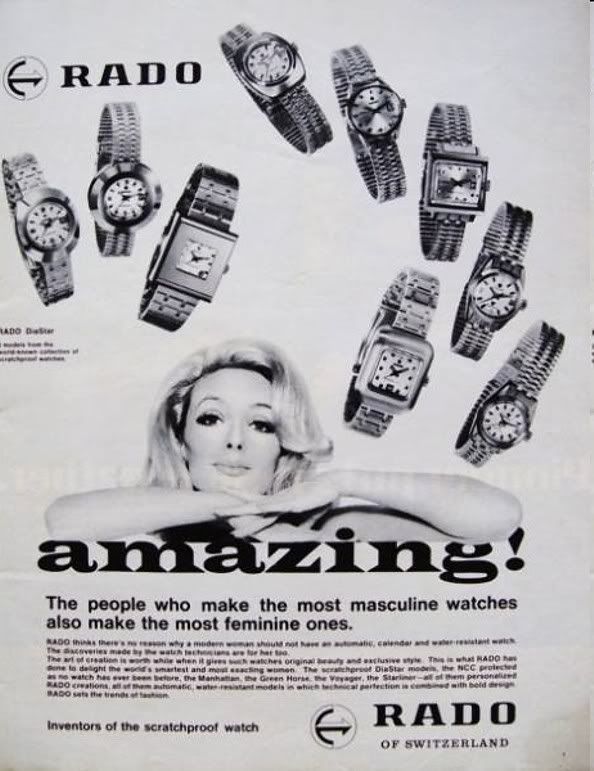 1970s, Damenmodelle/Ladies´ models, USA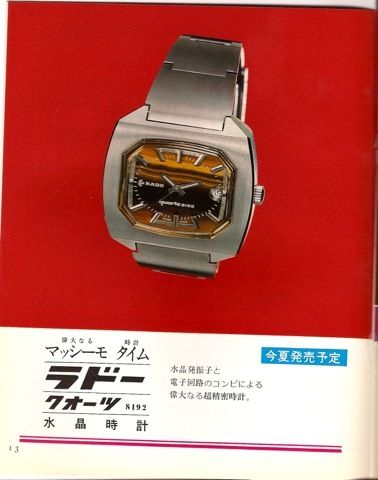 1970s, 8192 Quartz, J
ca. 1972, DiaStar, DiaStar, Golden City, -, USA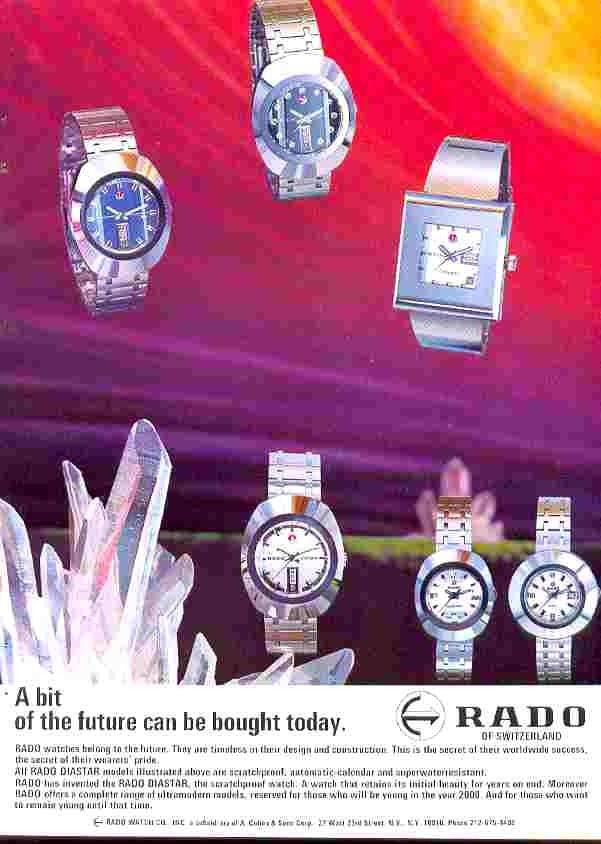 ca. 1972, DiaStars, DiaMaster/DiaStar 10 USA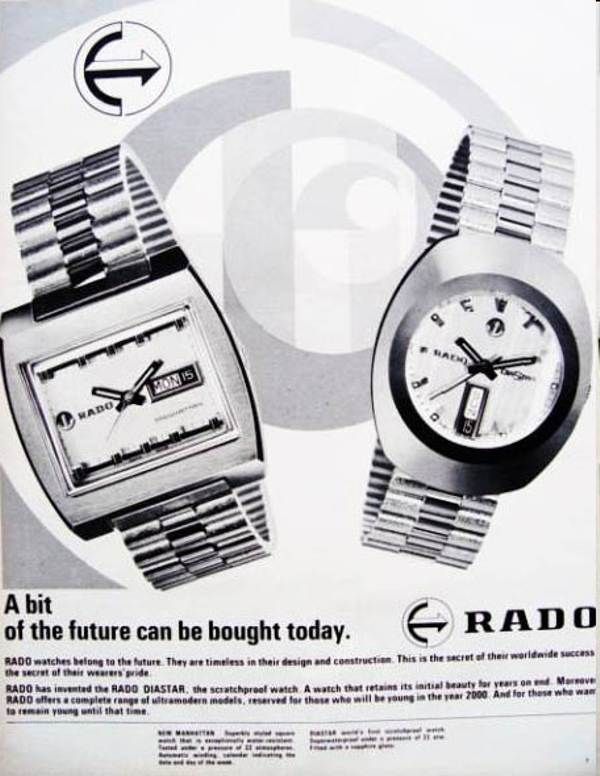 ca. 1972, Manhattan V, DiaStar, USA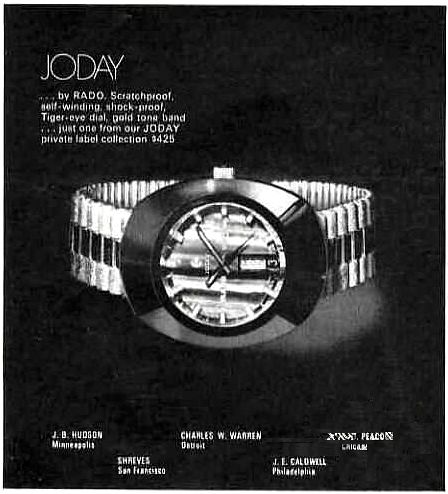 1972, DiaStar, USA 1973 USA, DiaStar mit Tigerauge-Zifferblatt/with Tigereye-dial,
1973 Joday Private Label Collection, USA
ca. 1973, NCC 505, Hongkong
1973 DiaStar Electrosonic, D DiaStar Quartz, Automatic, Electrosonic, USA
1970er/1970s DiaStar Quartz, D
1972, Diashow: Rado Katalog Japan/Slideshow: Catalogue Japan Direkter Link/direct link
Info zu den Preisen: Wechselkurs 1972 - 1.000.- ¥ = 5,31 DM/Info to the prices: Exchange rate 1972 - 303,17 ¥ = 1.- US$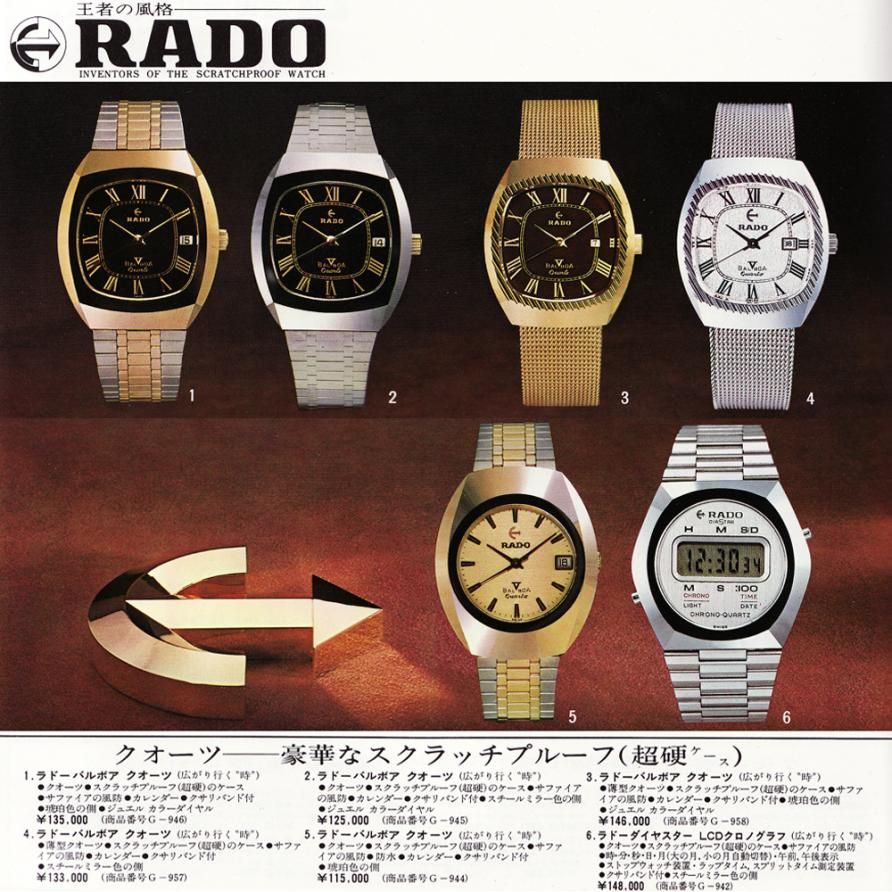 1978, Balboa V Quartz, DiaStar Digital Quartz LCD Chronograph, J
1978, DiaStar, USA
1979, DiaStar Quartz, USA
1980er/1980s:
1980, DiaStar Quartz, USA
1982, DiaStar Quartz, D
1982, DiaStar Quartz, USA
1983, Florence, USA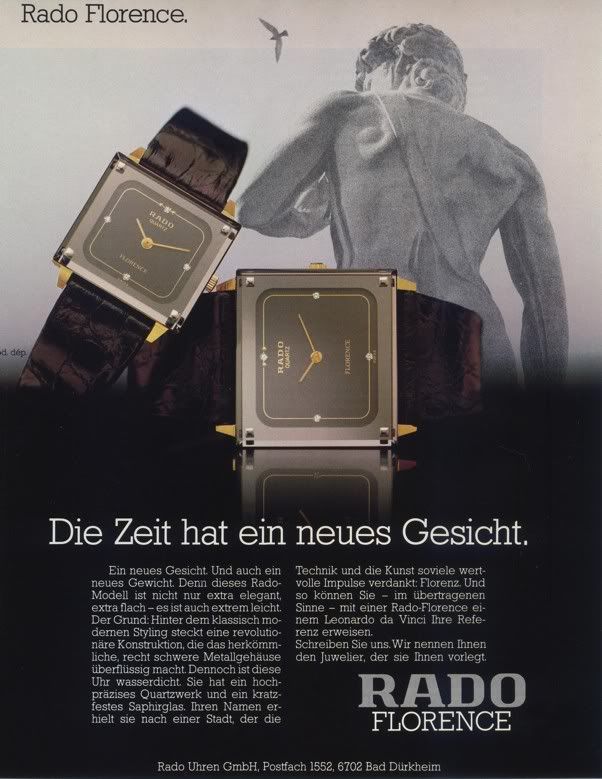 1980er/1980s, Florence, D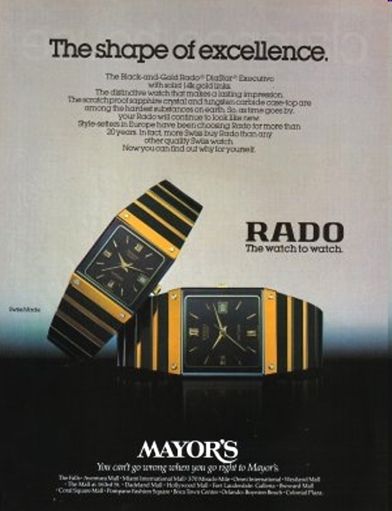 1984, DiaStar Anatom Quartz, USA 1984, DiaStar Executive Quartz, USA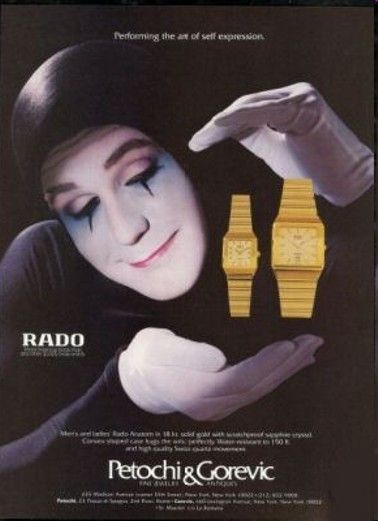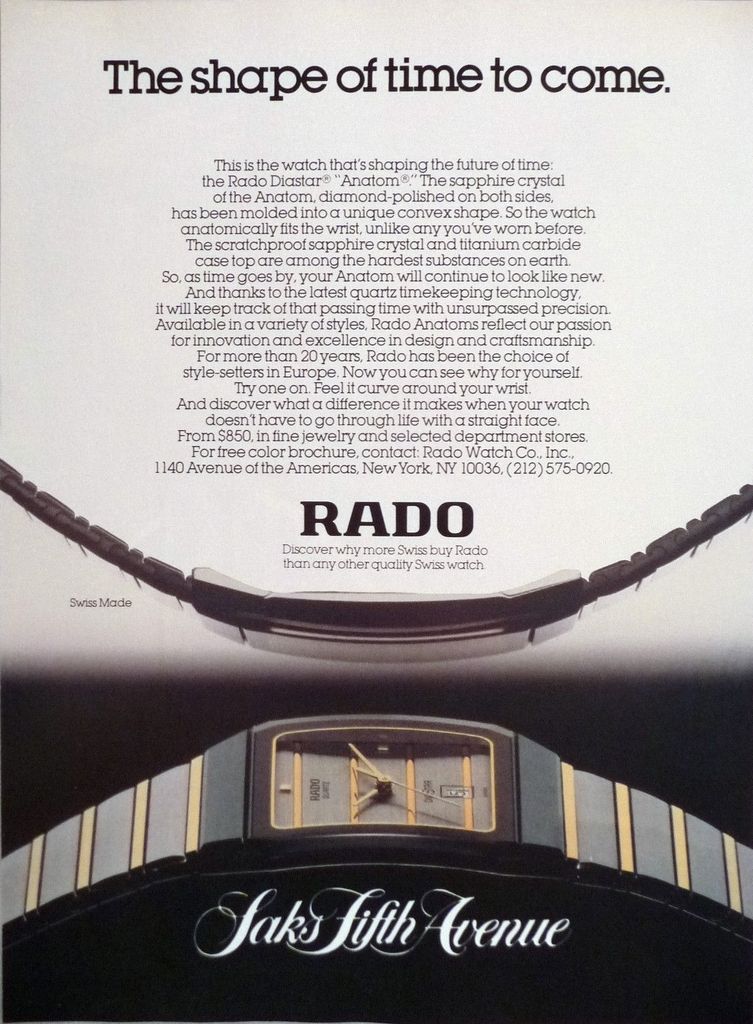 1986, DiaStar Quartz, USA 1985, DiaStar Anatom, USA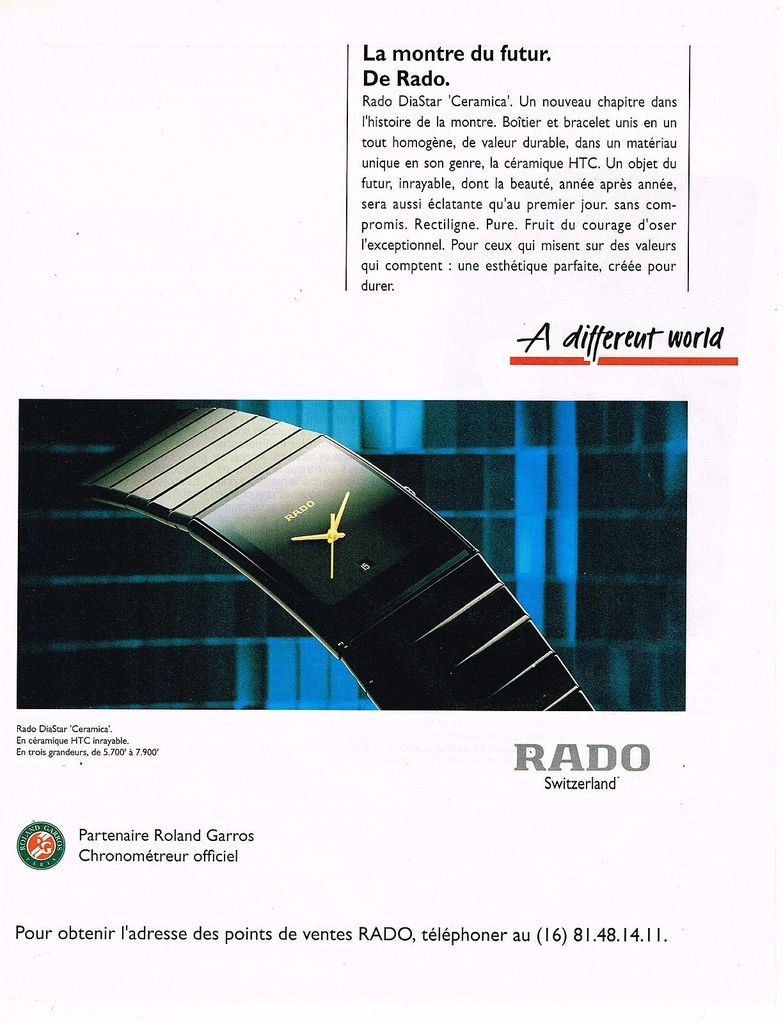 1991, DiaStar Ceramica, F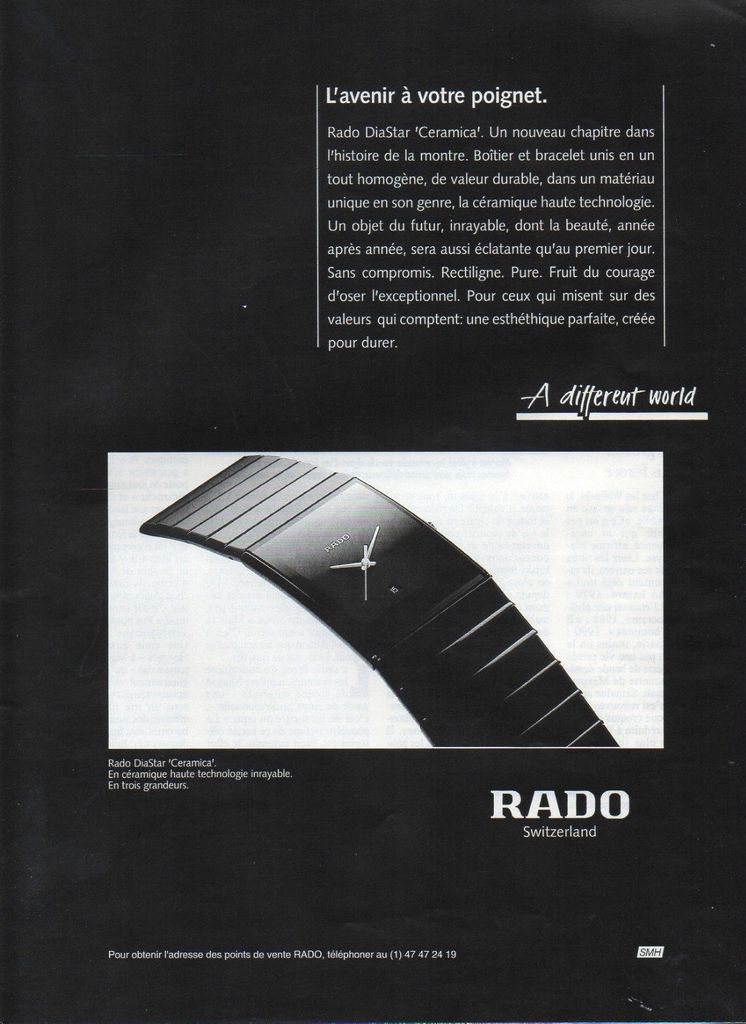 1993, DiaStar Ceramica, F
DiaStar Fernsehwerbung spanisch1960er/ DiaStar Commercial Spanish 1960´s:
DiaStar Anatom Fernsehwerbung USA1980er/ DiaStar Anatom Commercial USA 1980´s:
Watch Carefully´s Brochures and Catalogues